For nearly twenty years Modular Elevator Manufacturing has been leading the elevator revolution. Like any revolution there are milestones or measurements that show the growth of that movement. Markers that point to the "normalization" or general acceptance of a movement. These include: a global awareness of the product and methodology, an overall increase in market acceptance, implemented examples of the concept in completed projects, general acceptance and understanding of the advantages, and ultimately expansion of the market. Now, MEM is pleased to say, "Next stop transformation".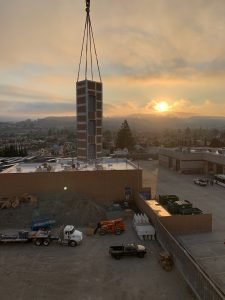 Those milestones are being realized. Now the focus is shifting from the necessity of revolution to the reality of transformation in the elevator industry itself.
A Great Idea
When the concept of the modular elevator was first conceived, it was as a response to the Americans with Disabilities Act (ADA). Three individuals put together the original plans and started producing modular elevator units. Their concept was largely designed to sit beside an existing structure to easily and quickly make an old building compliant and more accessible. Great idea!
Many of those early units were sold and installed. But a modular delivery approach requires an understanding of construction and elevators. Ultimately, an overall lack of experience in the construction industry led to many difficulties in the installation process along with other issues. However, suggestions from the field for improvements often fell on deaf ears and so the concept, although sound, struggled to take off.
The Revolution Begins
Enter TLShield. As the fledgling modular elevator company fell to failure, Tom Shield, who had installed many of the early units, took a bold step. His company, TL Shield and Associates began a new entity Modular Elevator Manufacturing (MEM) dedicated solely to the improvement and production of modular elevators. They instituted many product changes to improve the overall quality and installation process. The MEM Elevator System was born and they began producing the solution that many were looking for.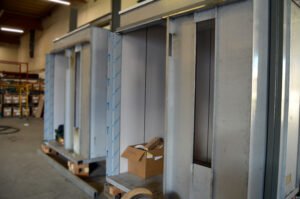 Since that time a steady march towards revolutionizing the old, tired model of conventional elevators began. Few realize the elevator industry had largely remained stuck in the mid-1800's in the way an elevator was installed and produced. Since before the Civil War hoistways were built in a building and then the elevator was painstakingly assembled in the shaft. Crates of parts would arrive to be assembled in a closed, challenging space. That is still the way it is done in the conventional elevator sector. In an honest moment, the entire industry would agree, that makes no sense at all. Modular elevators changed all of that. They are produced in a factory, hoistway and all, shipped to the location and then the fully install elevator is lowered into place in a couple hours.
The Revolution Picks Up Steam
Since the beginning MEM realized that the product was revolutionary, but the revolution could easily die if a proactive approach to enlightening the construction industry failed. So education and information became the model to market the concept and high-quality product. "Next stop transformation" would take time, patience and effort but worth it. Change in any monopolistic industry is a slow steady undertaking and does not happen overnight.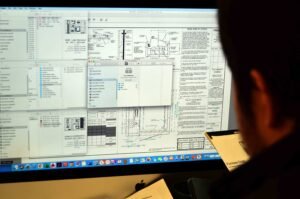 Education and Awareness
To propel that change forward, the new model became education in place of the expected sales pitch. Older iterations of the MEM website contained a voluminous amount of data, facts and specifications. It even offered up links to drawings and engineering information. Previously many considered that kind of information proprietary to their brand and did not have plans on line. However, we found transparency was the best option in how we arrived at our improvements, created awareness and helped to answer questions.
This includes passing knowledge freely to other elevator companies. Sharing and opening our facility became a routine practice and is still in practice today. When Covid hit, we offered for the first time a one of a kind virtual tour of our factory to anyone that asks. That openness and outreach remains the only online virtual tour of an elevator production facility in the world. No one opens their doors as we do. We know allowing openness and full disclosure is the only way to make our "next stop transformation" a reality.
If you want to take advantage of our live virtual tour you can do so. Just click the button.
Product Acceptance
Early on schools in California embraced the modular concept and the idea that a modular elevator would be the best and most logical choice for ADA compliance. As the sole leader in the industry we were often specced into those projects. However, I remember the day that a modular elevator was specced into a project that was not in the education sector. Obviously the day passed with no fanfare or popping corks, but I knew things had changed.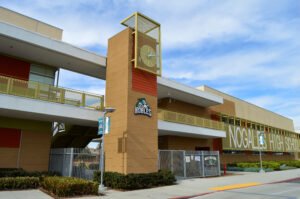 Product acceptance on a whole new level had just occurred. That was followed quickly by approved architect training through AIA, integration into new building projects not just retrofits and design/build plans being altered. This was all to incorporate our modular units into ever-widening applications regardless of the type of construction method.
We also found that big players in the construction industry were more than just curious, they were serious. They saw that a fully installed elevator set in place before lunch break was a big deal. The realization and reality of an elevator off the critical path had enormous implications. The potential of that removal from the critical path changes everything. It reduces call backs of other trades and the entire timeline and costs. Suddenly, the light bulb clicked on…there was a better way.
Acceptance of the product was also demonstrated by increases in our Fast Track quotes, formal quotes and ultimately sales. In just two short years we had to double our manufacturing floor and we are currently at all-time sales heights requiring us to look at an additional expansion or space. We now ship nationwide routinely with projects as far away as New York. All of this success was due in part to our commitment to modeling of the concept in how it works and the advantages.
It Just Makes Sense
Commonsense it seems has disappeared in some ways from our society. The hardest way of doing things has replaced ease and wisdom as in the construction industry's use of conventional elevator companies. Unfortunately, their sales concepts is not one of openness and sharing. Instead we learned through our polling efforts they were sometimes sowing seeds of confusion an exclusion. There was just one way…their way.
One of the respondents to our poll said it best, "It's unfortunate knowing when entering into a project where elevators are to be installed that there will be issues and complicated schedule situations. The elevator company knows there are not many alternatives for installation so they capitalize in the safety of us needing them more than they need us."
We have become that alternative and change so needed. As our mission is not just to offer concepts, but actual projects that clearly demonstrate higher quality can accompany speed through manufacturing.
Building with Others
Most importantly we stress we need each other in the building process. We know that if you just say something is better, faster, easier greener, and more cost effective it would come off looking false no matter what the intentions. Listening and conversation is our mandate.
As a result we developed cohorts for each vertical construction segment. And we developed a short poll to enable us to hear what is wrong with our industry anonymously. We do not horde the results but in an unprecedented move provide the data openly to everyone that wants to see it.
Help us improve the elevator industry by taking our short poll. It will help us shed some light on industry improvements. It is anonymous and just five short questions.
We feel the product makes the most sense and with sincerity we share what we know and have learned.
Innovation Through Cooperation
It is a huge difference as we recognize that we have succeeded where the previous company failed by listening, understanding the elevator industry intimately and making needed change. Intuitively we knew immediate improvements that would make everything better in the engineering, design and installation. Honestly some were what we would call no-brainers, plain to see from the decades of elevator experience we brought to the table.
However, it is easy to be blinded by past success. So we continue to innovate, expand our knowledge and to assess our projects from the perspective of architects, project engineers, construction managers and owners. The communication is crucial to continued success.
It is important to know that this does not mean every idea is a good idea. We methodically look at new ideas against what has worked. We think deeply and don't jump to quick conclusions. This has led to an ever improving product line that exceeds expectations.
We Know We Are Succeeding By Increased Competition
As our market share continues to grow we know our ideas and concepts will be and have been copied. Sometimes they are just pretenders that think anyone can produce an elevator. They struggle with quality and often seem to grope in the dark with innovation. But, when you are driving towards the "next stop transformation" philosophy ultimately the next stop includes others in the business. When you are successful at what you do people will follow.
The result is two new reputable entrants into the modular elevator industry. They have seen growth and want to be a part of the revolution. It may surprise you but, we have no qualms with that as long as they copy our quality as well. As a pioneer in the modular elevator business we are glad to have help building on what we have done.
Resolute Starts Up
Resolute Elevator in North Carolina has stepped up to manufacturing modular elevators in a big way and they are seeing great growth. Their background is similar to ours. They were in the elevator business for several years and even installed some modular elevators. Likewise, they were concerned for the elevator riding pubic and the concept itself when they found the modular offerings they used less than the quality they and their customers demanded. At Resolute they felt innovation was lacking and poor workmanship was the order of the day. They understand that if modular elevators become equated with substandard quality then the better concept of a manufactured elevators would struggle. They have even participated in one of our cohort groups. Their input was invaluable.
Big congrats to them and best wishes!
TKE Steps In
But a second entrant into the modular elevator industry is more curious. Thyssenkrupp (commonly called TKE), having witnessed the wisdom and potential market share of modular, has decided to stick their decidedly big toe into the elevator revolution we began so long ago. As we all know big companies move slow and ponderously and big elevator is no acceptation. After all we have been grabbing more and more of the elevator market for over a decade and our innovations have now become a staple in many construction segments.
Why does TKE embrace change now? One can only speculate. However as we know in the "next stop transformation" theory, new entrants will come from a number of sources. We are just satisfied that they, although late to the party, see that modular is viable and the future. They are just now testing their new modular system in Hong Kong, but they will eventually make it to our shores. This is not just vindication, but product justification. Now they see it and soon everyone in the construction industry will as well.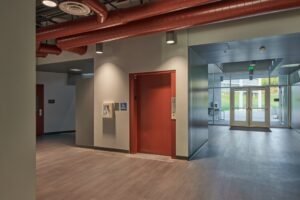 The Future
Overall this is proof positive that what we are doing is winning the revolution.
Next stop…transformation and we have been leaders in that effort longer than anyone else.
If you are interested in being a part of the elevator revolution, we encourage you to dig, explore and ask plenty of questions. We are ready and willing to be a part of your period of discovery. To get started we offer a couple opportunities below. Just click a button.