Fill out the form to receive a FAST TRACK quote in 24 hours! You can also schedule a LIVE VIRTUAL TOUR. Just complete the information below and you will have a personal live tour of our facility scheduled at your convenience. During the tour you will be able to ask any questions you want and see how we produce the best, high-quality commercial elevator solution for any project between two and seven stories.
Complete all the information on the form you can so we can be prepared to show you a project similar to yours. We will contact you to schedule the tour at your convenience.
---
Some of the information requested can be confusing if you are outside of the elevator or construction industry. Don't let that stop you! To schedule your free live tour of our facility just fill out as much info as you know or check out the handy drawing as a reference or click the link. You may not even even have your concept on the drawing board yet. No worries this tour will help answer all of your elevator questions.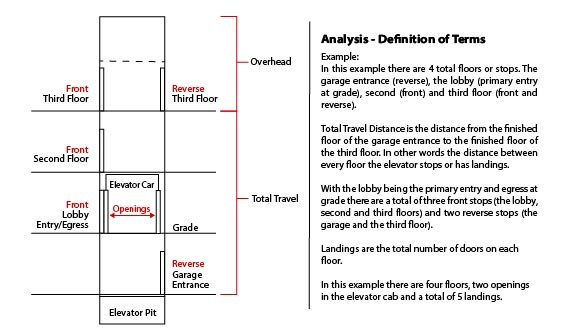 Once you are scheduled for the tour, we can also provide a Fast Track budget number for your convenience. After that step, check out our process here. Click on this link for an overview. You will find it as easy an elevator process that you have ever been a part of. There are just ten simple sets to securing your commercial quality elevator for production and delivery.
Keep in mind that we can provide elevators for retrofit projects to new construction. We have provided solutions for every building type from commercial property to multi-family projects, hospitality to hospitals. We are ready to provide you with a modular elevator that takes the elevator off the critical path. It easily sets in place in hours and can be started up in less than week.