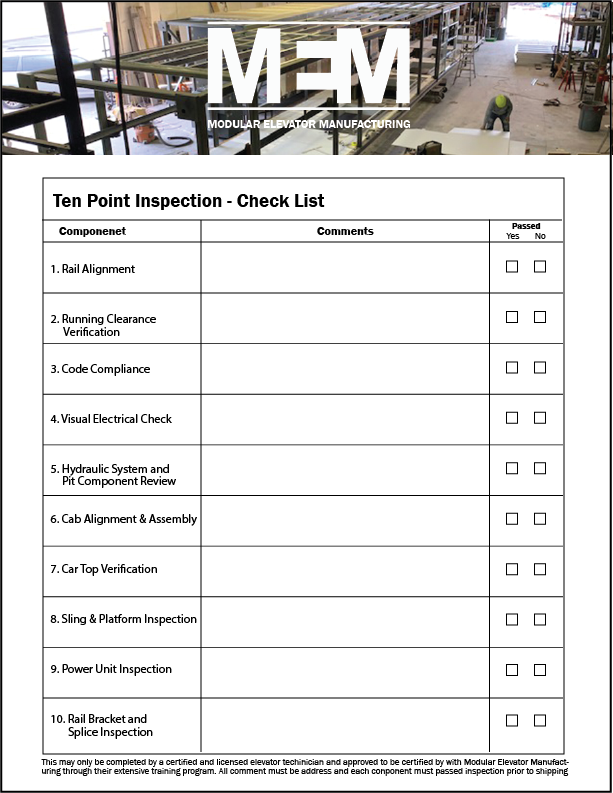 Quality is extremely important to Modular Elevator Manufacturing and the modular industry as a whole. As a result we thoroughly inspect every elevator that we manufacture with a 10 Point Inspection – Check List. This inspection is only conducted by a certified elevator technician. In this way you can be sure that when we ship an elevator, it is the quality we promise.
---
The Check List
Before the elevator is ever loaded on the truck, we make sure of the following:
Rail Alignment
Running Clearance Verification
Code Compliance
Visual Electrical Check
Hydraulic System & Pit Component Review
Cab Alignment & Assembly
Car Top Verification
Sling & Platform Inspection
Power Unit Inspection
Rail Bracket & Splice Inspection
Each of the above is a part of a process that consistent produces the highest quality. If you are not careful you could pick the wrong modular company that does not inspect every aspect of the project by a Certified Elevator Technician. Keep in mind that it is important a Certified Elevator Technician is doing the checking and not just any employee. We have multiple employees that are qualified and capable of checking everything. We simply cannot vouch for what others are doing, but rest assured we do our best to make sure the elevator you get is the highest quality.
Modular is Safe
Lastly, we want to make sure everyone knows that modular is the safest and best way to build. Whether you are considering an elevator for new construction or wanting to retrofit an existing structure MEM elevators are your best alternative. Always safe and fast installing. Also, we are a reputable company in the modular building industry and are ready to build faster, greener and most importantly safer.
The 10 point inspection sheet guarantees a thoroughly checked modular elevator. If you have a project in mind that you would like a budget number for click the button below. Remember MEM elevators are always quality elevators taking you to a higher level.