The purpose of this page is to be a single location for all the information you need as an Authorized Elevator Contractor (AEC) for Modular Elevator Manufacturing (MEM). You can find this information in several places on the website but, having everything here for you in one location should help.
Keep in mind we are always improving and updating the information so keep checking back. We will be adding additional marketing pieces as time goes by as well as the forms you will need to pass on to your prospects and clients.
---
Overview of Responsibilities
Obtain the permits.
Meet the truck and inspect the load.
Set and plumb the hoistway.
Set the machine room if necessary.
Connect the wiring.
Run hydraulic lines and fill the tank or complete roping.
Start up, test and adjust.
Supervise inspection.
In addition, it is important to coordinate with the other trades and the general contractor on timing and completion. Remember communication is crucial and we will help anyway we can to facilitate a smooth set and start up.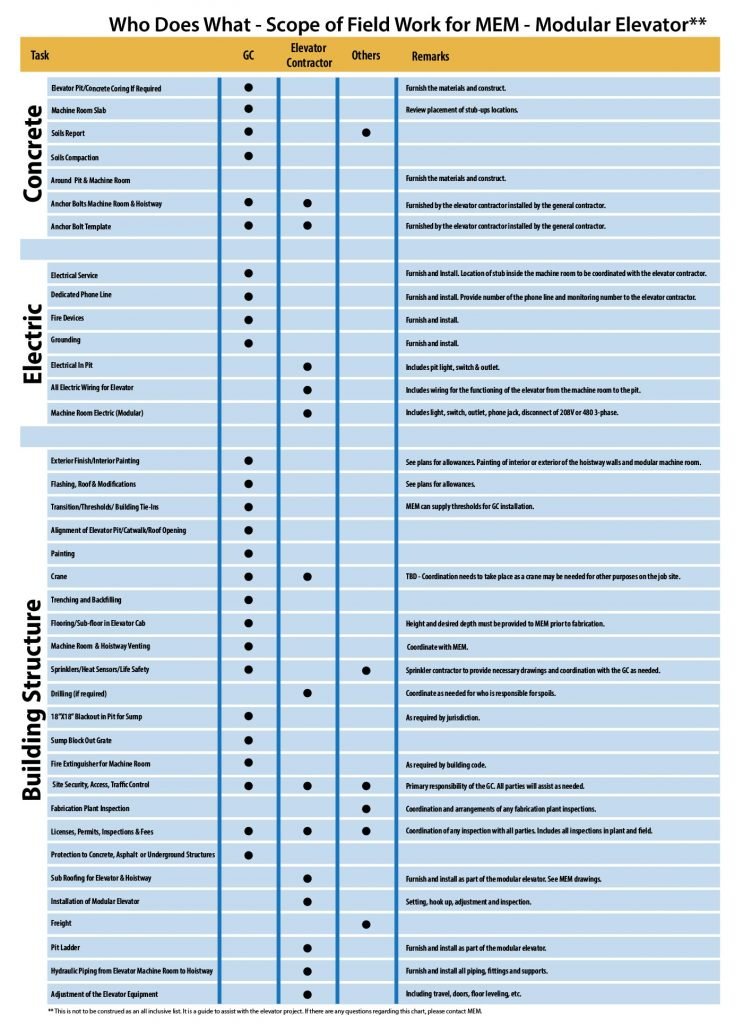 The chart to the left can be downloaded and use as a reminder of the duties required. As with all information, these are just guidelines and can be adjusted depending on the job. Download – Reference Chart
---
Refer a Fellow Contractor
One way you can help us is referring other elevator contractors to be an AEC. Feel free to forward the online application to anyone you know in the industry that may want to be a part of this growing industry. Application to be an AEC
---
Logos
There are two logos that are available for you to use regarding the product MEM with the name and MEM standard. The product logos are for advertising on your website or in any printed material. Feel free to down load that at your convenience. The other logo is one to officially note you as an Authorized Elevator Contractor. This can also be used on your website of in any printed material. You should be able to download the PDF file and simply drag and drop the JPG and PNG to your desktop as needed.
---
Marketing Material
Below you will find the current brochure. It is laid out using horizonal 8.5 X 11 sheets of paper with a simple saddle stich or staples in the spine. You can download it for a professional printer, copy store or if you have a high-quality printer do it yourself. You also have access to an online version here that you can post on your website. When downloading the print version keep in mind it is a larger file and could take time to download. You can also simply link to our page for the same material here.
Keep in mind if you need materials we can send you some printed items upon request.
Download a printable version.