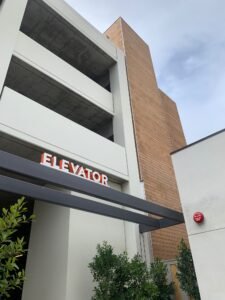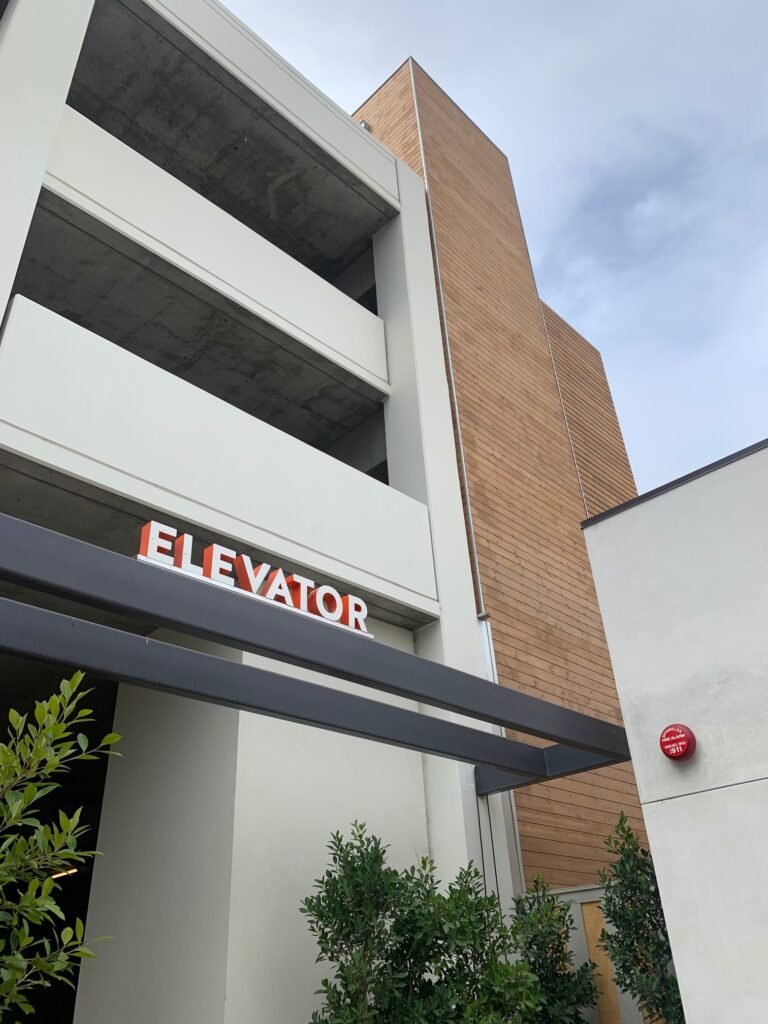 A modular elevator is the perfect solution for your parking structure project. The MEM Elevator System goes in fast and integrates easily into most any garage project. They can be designed to be self-supporting structures and can be placed on the exterior of a parking structure or interior as needed. That means faster in with all the financial implications.
The MEM Elevator System can be used for both above or below grade applications. You will find no other elevator is as well thought out for your industry and is as easy as providing us the pit. We then truck the elevator when you need it for the job. It takes just hours to put into place and days to start up.
Also, our elevators can include safety features such as a glass hoistway and car that will allow for the passengers to be seen. We can also provide more durable buttons, hall calls, interiors and elevator control panels.
Lastly, our models can be easily duplexed or banked. Front/rear models are available if going between the parking garage and a building.
---
Why the MEM Elevator System
Can be easily integrated and placed on the exterior.
Decades of experience goes into every MEM Elevator System.
Get your elevator when you need it, off the critical path – Set early in the project or late, save on general conditions.
Save on legacy costs. Only non-proprietary industry standard quality parts. Avoid elevator industry "dirty secrets".
Glass back elevators are available for increased security.
In place by lunchtime when there was only an empty pit that morning.
---
Parking Solutions
HW1-P – ADA compliant. Capacity 2500lbs. The footprint is small and can easily be added to a tight location next to a garage. The interior is simple and durable. Non-proprietary parts lower the cost of ownership. White enamel doors and entrances are standard.
HW2-P – Has a larger cab size specifically for higher traffic in parking garages. This parking structures model features high-durability fixtures and a solid, steel cab with a variety of designs. Depending on your needs the capacity can range between 3500lbs. to 5000lbs. Easily duplexed.
HW3-P – Larger car for gurney compliance. This model comes with standard interiors and durable fixtures and buttons. Stainless-steel interior. Capacity is flexible depending on need. This stretcher compliant car model accommodates a 24" by 84" ambulance stretcher in the horizontal open position with a capacity of 3500lbs. to 5000lbs. Easily duplexed with smaller models if needed.
HW4-P – Large capacity. Accommodates large loads of luggage or equipment. Taller and wider than other models. Durable fixtures and stainless-steel interior are standard. Horizontally parting doors available. Capacity is flexible depending on need. Key access.
We provide quality solutions for your vertical transportation needs for parking structures and much more. If you want to get started, click the button to the right for a Fast Track Quote.
Some of our Parking Structure Projects