Shark Bite and Modular Elevators – Newhart Middle School/Mission Viejo, CA. Innovation can be hard to accept and try. In Mission Viejo however, they are embracing innovation and teaching it in a brand new facility at Newhart Middle School.
At the recent open house Superintendent Kirsten Vital Brulte said, "We look forward to seeing how they use this innovative space to further their STEAM education." There is no doubt the facility will be put to good use, but there could be a bigger lesson about innovation and acceptance of technology that we all could learn.
This lesson of trying innovation struck a cord with me during a recent home renovation. We added on to our modest farmhouse a kitchen and upstairs bath. Of course to keep the costs under control, my wife and I decided to do some of the work ourselves. I am not totally without skills. The result is we took over some of the obvious stuff that we knew we could do. Painting, trimming out windows and doors and baseboards.
New Fangled Product
I also considered making the plumbing a DIY project. It was just a sink and dishwasher in the kitchen. Pretty straight forward. However, I was worried as it had been sometime since I sweated pipes. I then looked into Shark Bite plumbing and my suspicious mind started racing. It looked easy…too easy. If I used the snap together plumbing, I would definitely be able to avoid the difficulties of copper, but at what cost? Was this truly going to snap together so easily and hold?
I would have definitely saved a ton of money, been able to put the plumbing in faster and complete the job on my schedule, meaning the kitchen would be ready sooner. You can only eat take-out off of paper plates for so long.
Ultimately, however, I wasn't convinced. I just couldn't do the job with this new fangled product.
The Conventional Route – Live and Learn
We got a great reference for a plumber and so after he saw the plans and agreed, I wrote a check and scheduled the job. Weeks went by but in his own sweet time he arrived. However, as he clambered out of his van, what did I see? Rolls of PEX tubing. Also, all his shelves were filled with connectors and fittings for snap together plumbing. He said that for jobs like mine, that was what everyone is using. It was easy and quality.
I watched agog as he went to work. It was as he promised and I had been a fool. I could have saved money, time and effort by doing it on my own with a more advanced product. Before lunch, he was out the door telling me to call if there were any problems and let him know when everything else was done so he could set the fixtures.
I guess you sometimes just have to live to learn.
Modular Elevators – Innovation You Can Trust
I immediately saw parallels between Newhart Middle School, Shark Bite and Modular Elevator Manufacturing. The MEM Elevator System and snap together plumbing have been on the market for over twenty years. Both are innovative and have revolutionized their industries. They are proven to reduce time, reduce costs and are just as good as what they have replaced. High-quality is a must for a commercial elevator.
Lastly in my case regarding plumbing anyway, both struggle with acceptance. Shark Bite and modular elevators have a hurdle to clear. They must convince the market by seeing them in action and by being open and honest about what is offered and the differences between the revolutionary and conventional.
So we are working hard to provide examples of our product, like Newhart Middle School pictured. What you are seeing is a fully installed elevator being placed through a hole that was left in the build. It was set in just a couple hours and was started up in a couple of days. Revolutionary!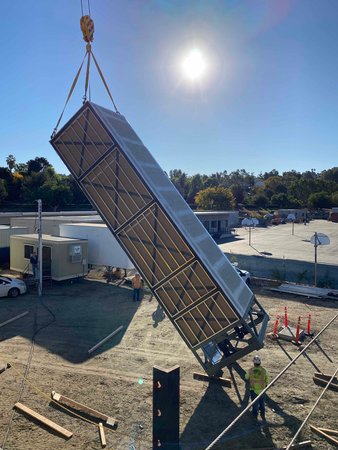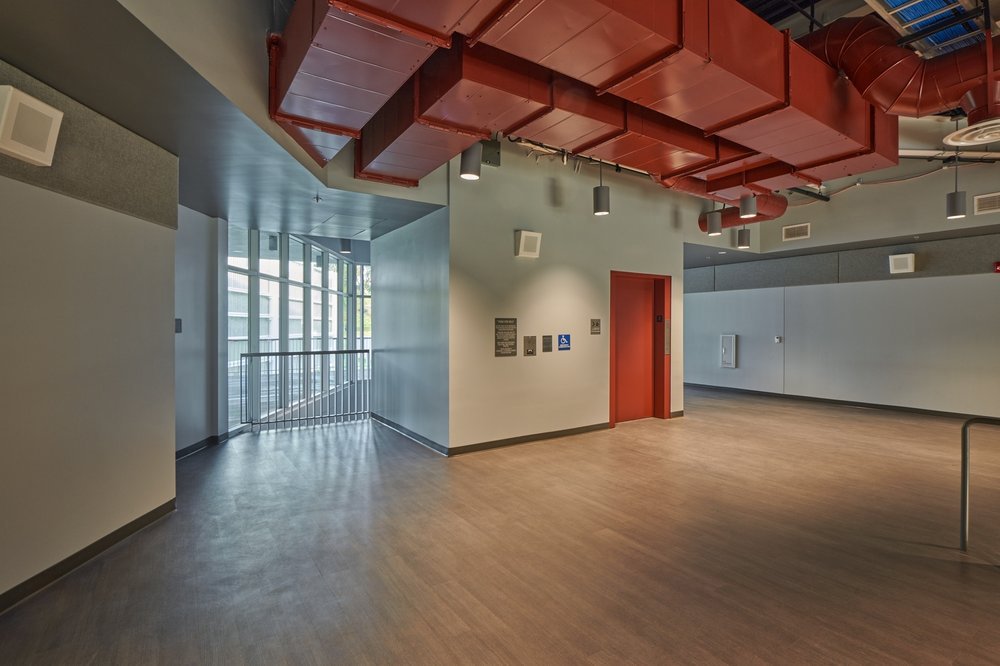 As you can see, the project looks great. It went in faster for the school with no disruption to classes and overall their embracing of innovation in what they teach and how they teach it, will be a lesson for all.
If you would like to see about this project or others like it, we are opening up our factory to live, virtual tours at your convenience. All you have to do is click the button and fill out a simple form. We will then schedule the tour at your convenience. During the tour we will answer any and all questions. You can also schedule an in person visit as well.
Lastly, if you have a project in mind and want to speak directly to one of our representatives fill out the Fast Track form. We can provide you a thumbnail number in hours.
For more great photos of the project, visit our good friends at Miller Construction. Their team did a great job!