At Modular Elevator Manufacturing we are fond of saying you get the elevator delivered when you want it. But, exactly how does that work? Obviously, you can't decide on Friday you want an elevator and one pops up on Monday.
There is a process, however it is not laborious and in comparison to stick-built options. It is significantly easier. But, still there are things that must be done in a certain order for you to get a fully installed, commercial quality elevator set on the day you want.
How Modular Works
First, a quick explanation as to how modular saves time and helps you with your project. This will help you see the need for the steps we have put into place. With modular construction overall the key is the period between a project being greenlit and the site prep and foundation work being completed. During that time in traditional construction there is some activity, but most of the work is in a holding pattern.
With modular all of the various components are being built during this time period. So when the cement is dry, the crane arrives and the project get's its elevator and other modular units if any. Not to confuse matters, but it really doesn't matter to us when you want the elevator at all. In some projects it goes in first, in others last, some in stages. It all comes down to when it is best for you as long as nothing impedes the crane putting it in place.
Our Process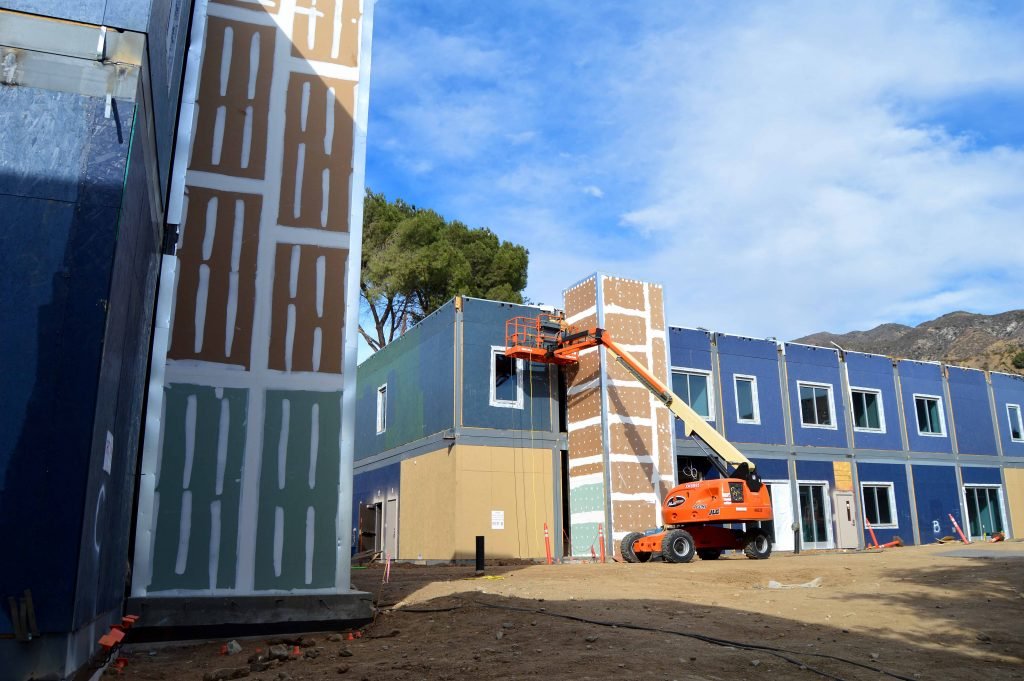 So now we get to our process. How does it work for your benefit by taking the elevator off the critical path. I hate to be repetitive but, just to remind you it is a fully installed elevator being delivered (car, rails, wiring, doors, etc. all inside the hoistway). In most cases it will be set in 4 hours or less and then started up when there is power. It has to be adjusted, but all that takes less than a week in most cases. Many people still don't believe it when the unit arrives on time and completely installed. They are use to the old-fashioned way elevators are cobbled together where deadlines are more like guesses.
There are ten general steps from requesting a Fast Track Number to a fully functioning elevator. Some of the steps literally takes place overnight (like getting you a Fast Track Number). Other steps like the design phase takes a bit longer. We can expedite some of the process as well and there are things you can do to move things along. We will get to that, but first below are the standard steps.
Here are the steps:
Congrats you have your Fast Track Number. This is a very good estimate, but there is some flexibility depending on your choice of features or other factors. With a thumbs up we provide a Formal Quote.
Formal Quote is on the way – When you receive it sign it and send it back or let us know about changes. By the way, it does take a couple of days for us to make changes and return them for signature.
$7500 is required to start on your drawings and make the project official! This will be applied towards total estimate for the project.
Design begins. We work with your team (architect, GC and engineer) to integrate the elevator into your project. The AHJ (Authority Having Jurisdiction) is then contacted for the permits.
Drawings are finished – Sign them and return them with any changes or questions along with fully executed submittals.
We are ready to start production. We just need 30% of the total estimate to begin. In addition, furnish the approximate date you will need your elevator. It only takes 16 weeks to manufacture so production begins 16 weeks prior to the delivery date you supply.
The production is finished. 30% is due for delivery.
The elevator is delivered, and the set is complete the last payment of 30% is due.
Provide us a punch list and complete the inspection! Above all, congratulations!
Thanks you for doing business with us and we look forward to serving you again. Please complete the attached survey.
Speeding Things Up
You will notice that it takes 16 weeks to produce a high-quality product. That can be shortened, but not significantly. We produce high-quality elevators and are not a company that will rush things and put the riders at risk. Likewise, we will never compromise on safety on the construction site. Some promise an 8 week elevator, well that can cause disaster.
So to shorten the process the most important thing you can do is to get "Step 3" completed as fast as possible and provide us with a general date you would like to have to the elevator delivered. Completing "Step 3" ensures that the engineering and design will begin and providing a prospective date will allow us to plan and block out manufacturing time for you.
Another thing you can do to keep the timeline short and moving forward is being responsive to requests. Sometimes a project can be delayed for a week or more while we wait for a simple signature.
Lastly, make sure your accounting department knows the process. Sometimes internal processes can slow things down.
Our Flexibility is Key
Remember, our goal is to get you a fully installed elevator when you want it; not too soon or too late. Communication is crucial. We will be proactive in contact with updates. Also, we understand when the delivery date changes. It is the construction business so things happen and pushing out is a reality. We will remain flexible.
To help stay flexible and informed, your primary contact will be the same person through out the entire process. The person that supplied you with the Fast Track Number will be the same person managing the project every step of the way. They are knowledgeable experts in the industry!
Because we have the most experience in the modular elevator world, we can smooth out and anticipate any problems or issues before they occur. This leads to success of your project as a whole and the elevator portion of the building. We consistently accomplish our goal for our clients of an elevator delivered they want it. We want to do the same for you. Let's get started with a Fast Track Quote today. Click the button below.