Perfection is a word that is not used very often. And it is also almost never used in the construction industry. But, there is such a thing as perfection even in the building trades and it is more common than you think. Its just not common with a traditional elevator installation. With MEM elevators however, perfection comes easy and it is a good thing it does.
Perfection Can Be Rare
Maybe we think of perfection being so rare because when the word is used in everyday conversation it is often associate with singular events or rarity at an extreme level. Think about a perfect game in baseball. In nearly 220,000 games played in Major League history, there have only been 23 official perfect games pitched and no hurler has thrown more than one.
No one claims to have ever had a perfect golf score…it would be 18 for a single round. Instead we measure ourselves against par. Even past North Korean leader Kim Jong-Il could only muster a score of 38 with 11 holes-in-one in his fabled round. Pretty good for the first time on a golf course, but still no where near perfection. Although if prevarication were a sport, Kim would at least come home with a medal.
Speaking of medals, in gymnastics perfection was so rare that when Romanian, Nadia Comaneci reached perfection in the 1976 Montreal – Summer Olympic games, there weren't enough digits prior to the decimal point on the scoreboard. To the confusion of the crowd, after a seamless performance the score was shown as a paltry "1.00" instead of the ten she had earned.
But, astoundingly at Modular Elevator Manufacturing (MEM) perfection is commonplace, especially when it comes to the hoistway. So here's why that accomplishment is so important and the how we daily accomplish such a seemingly rare feat; the feat of perfection.
Why a Perfect Hoistway is Crucial
A hoistway, otherwise known as an elevator shaft is the backbone of the elevator system. It must be perfectly plumb and level. Just like in human anatomy where everything hangs from the backbone, so too do many of the elevator components hang from the shaft.
Like the old song "The head bone's connect to the neck bone." etc. The elevator rails are connected to the walls of the shaft. On those rails the elevator car rides. How plumb, level, stable and sturdy that shaft is often determines how smooth and quiet the elevator car will go up and down.
If you have ever been in an elevator car that rumbles, or rattles it may be that the backbone (hoistway) is out of alignment. That can shorten the life of the elevator system and drive the passengers riding in it a bit crazy.
In simple terms, the reason for the rattling in traditional elevators is often that clips are attached to the inner hoistway wall and on those clips the rails are attached. The worse the alignment of the hoistway the more adjustment is needed. And the longer and more effort it takes to get the rails set right. If the hoistway is out of plumb or worse yet twisted even slightly, additional strain can be created on the rails and then on the clips. That can force the mechanism to be pulled loose as the elevator is used over time.
With a modular elevator the shaft is so plumb and level that the clips are not simply attached, but spot welded onto the frame of the hoistway and then bolted. They are adjustable, but aren't going anywhere and there is no need for them to move. They can be welded because the hoistway is perfect every time. That means that modular (as usual) outperforms traditional.
How is Perfection Possible?
First, to understand how perfection is possible it maybe helpful to know why traditional elevator hoistways are so often out of whack.
With the old way of putting in an elevator (and we have all seen this on a construction site) the elevator hoistway is one of the very first things that goes up. If it is cold, wet or snowy the elevator hoistway can heave and shift. One builder in Canada got tired of seeing shafts having to be redone because of heaving and the expense of hoarding heat while the hoistway cured. So he wisely opted for modular.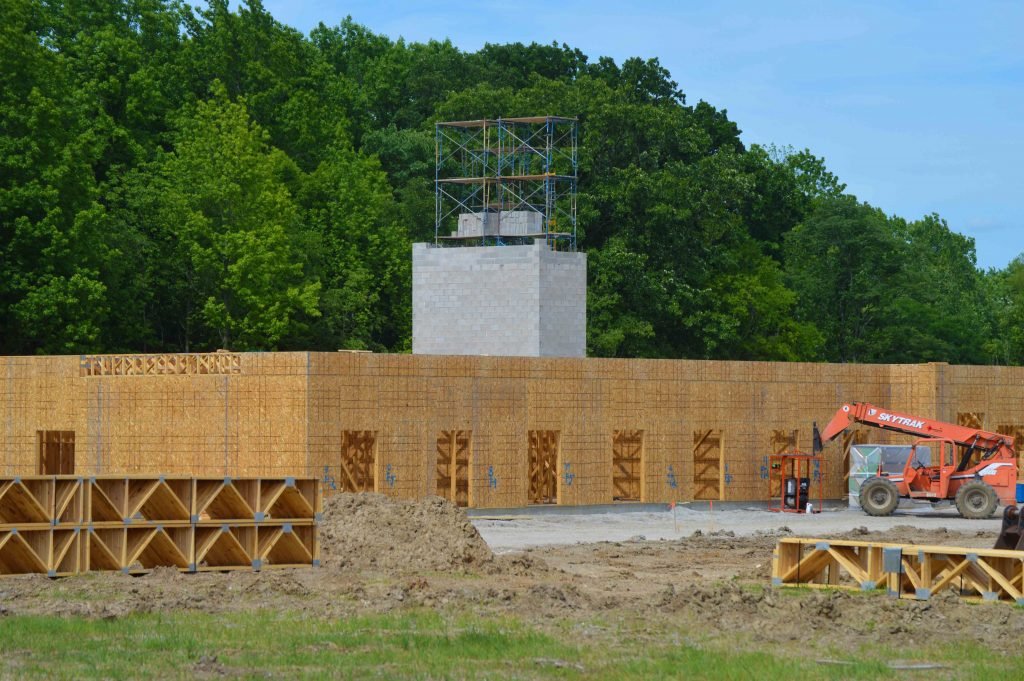 The opposite is true as well. If the temperatures are over 100 degrees special care and extra-effort must be made to keep the mortar hydrated with block construction. Failure to do so can "affect normal strength development of mortar, leading to a reduction in strength." – cement.org. That's a scary thought.
Extreme heat and cold say nothing about the poor folks laying all that block or pouring cement. They work in any number of foul weather conditions. And as we all know in less than optimal weather, work quality can diminish. In addition when it comes to the traditional hoistways work is done at heights on scaffolding. The human element cannot be ignored.
The hoistway tends to shift, twist or lean ever so slightly.
The Modular Solution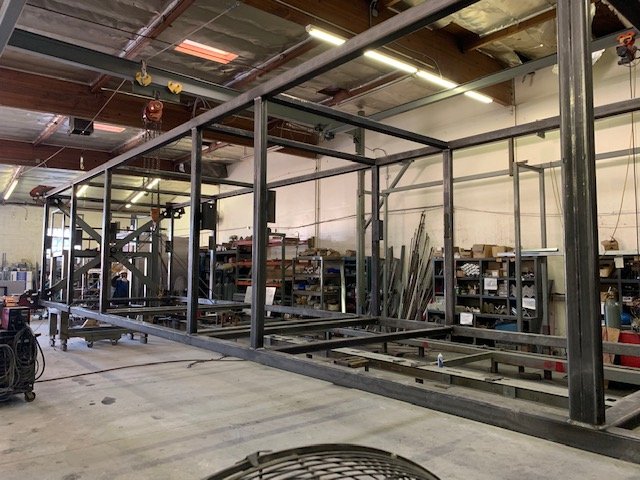 With a modular elevator or modular shaft or hoistway weather is never a problem. The entire hoistway is built inside a factory. The hoistways are made of tough construction-grade steel, laid out on jigs and are then welded together. There is no working at heights as the shaft is simply rotated as needed.
They are laid out horizontally in fifty foot sections or shorter depending on the project. If a hoistway over 50′ is needed the sections are laid out together to insure they are plumb and straight. Connecting plates are added at the joints for perfect fit every time.
Next metal c-studs and additional bracing is attached followed by the exterior sheathing. Usually a mold resistant drywall is used for either one or two hours of fire protection. The hatches get elevator doors next, then the rails go in. They are then aligned and welded to the interior and then the interior walls are finished out.
Perfection.
This perfect hoistway makes a solid, stable, plumb and level backbone for the elevator system. It ensures a great elevator every time. You will never get that promise from any GC or elevator company regarding the hoistway they build on-site. If this process intrigues you in the least and you have a project in mind just click the button. We can send you a quote in 24 hours. Or contact us at MEM where we produce elevators taking you to a higher level.