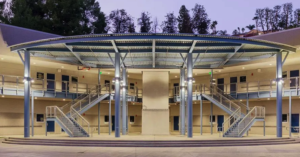 Early In Means Elevator When you Need It – Can you get an elevator when you need it? Including MEM early in a project means you can. Of course the alternative is the traditional way when the elevator company tells you, you can have it? But if you are tired of letting one industry dictate your construction schedule there is an alternative. The "alternative" has a long track record of success as the solution. It is also being embraced nationally by major construction companies, architects, design build firms, building owners and elevator installers.
The solution is the modular elevator and MEM is the leader of an elevator revolution with the MEM Elevator Solution. Make no mistake, modular elevators are the future. There is no doubting that. It is and will be a reality that very soon a modular elevator will always be the first option in any low or mid-rise application.  They go in faster with fewer headaches and difficulties overall. The price is competitive to better and the components are largely the very same you will find in any other elevator.  There is only one way that this growing trend will be up-ended and that is if modular elevator companies themselves don't live up to the promises they make and the quality they market.
Why Timelines Don't Matter
That seems to be what is happening at least to some extent currently. For instance, there is an often repeated 8 week delivery of an elevator. If a company makes that claim, be aware that there are dozens of caveats and requirements that cloud the numbers. We reject that marketing ploy and want to be included early on projects so we can deliver when you need the unit not at some inconsequential and artificial timeline.
Here are some ways 8 weeks is not obtainable:
The timeline doesn't start when you think it starts. Ask questions early. If someone is promising an elevator in a handful of weeks, it will probably be from the time that drawings are signed and approved. This process alone can take months as there are reviews and double checks.
It is not up to the modular elevator company when the units are approved and licensed for use. That's right, an elevator can be delivered on time, but the manufacturer has zero control over the inspection process regarding elevator operation.
Jurisdictional authorities can slow the process. Because a modular elevator is a hybrid of elevator and building (it is an elevator in a factory built hoistway), states can require in plant inspections of the hoistway or pass other requirements as a modular building. These inspections and designations are at the leisure of state agencies in most circumstances. Delays can be common. Read the fine print and ask specifically about this before expecting your elevator delivered.
Ordering the components takes time. There are just some elevator components that take over 8 weeks to get. The elevator company promising 8 week delivery knows they can't even get all of your parts in that time span let alone having them installed on an assembly line. As elevators are individualized largely for each project, keeping all the various parts in stock is never done.
Other trades can create delays for the elevator. Phones and sprinklers are just two that are required for approved elevator operation and they are outside the scope of the elevator company.
The elevator still needs power to start up. The elevator can be set in place in less than a day but the site still needs power turned on before the elevator gets up and running. 
Praying For Rain
So with the above all true, how can they make an unrealistic promise? It is, "Sell the elevator and pray for rain." approach. They know in all likelihood that the early stages of the project will not go off without a hitch and the financing, ground breaking, permitting, site prep, foundation and elevator pit pour will be delayed. This gives them time to get the elevator done before shipping. At least that is their hope and why their fingers are crossed.
Ultimately, the promise of the eight weeks was never realistic to begin with and never is intended to be adhered to by the elevator company. Heaven help you if you are efficient run a tight timeline and the weather cooperates. Odds are if you believed the canard of eight weeks…the elevator will now leave you frustrated and sour on modular elevators. We see people hesitant to use modular for just that reason. Once a promise, even one as outlandish as an eight week elevator is broken, trust is hard to earn back.
The MEM Elevator System Is Different
How is the MEM Elevator System different? We want to be early on the project so we can always deliver the elevator when you need it. There is no promise of a fictional and arbitrary timeline. We are honest from the beginning and listen to your needs. Then together we determine when it is best for the elevator to be delivered. We discuss if the elevator should be delivered first in the project, in the middle or the end. In the above photos, you can see it was determined that the elevator should go in after framing. Others go in first or last. We also discuss any special requests or specific difficulties to overcome. For instance our elevators are often used as a construction elevator to cut costs or for schools holding back the delivery date for a holiday or summer break.
The expected delivery date is then generated and the process begins. We know delivery dates fluctuate in every job, but having a general timeline for delivery is the best possible practice for the entire construction team. To keep things on track you have a personal contact that will touch base as needed to update the schedule. Everyone is always kept in the loop.
In our process while you are dealing with a million other questions about the project, permitting, figuring out subs and the rest of your project schedule we are ordering all the components, doing the paperwork, and creating the elevator schedule. With all that done and ready, the elevator is placed in our production line when it will be completed as you need it. It then arrives as promised.
This is truly revolutionary. No longer are you being told when the elevator will be finished. You have control back.
Our Elevator Solution – Early In Means Elevator On Time
So to ask the question again, can you get an elevator when you need it. Yes you can, but MEM being early in is crucial.
If you are interested in the concept of a modular elevator and would like to find out more about the MEM Elevator System and our elevator revolution, you can have a Live in person or even Live Virtual Tour. Just click the button below. We would be glad to pull back the curtain and show you around. This will allow for you to see with your own eyes our concept come to life and answer any questions you may have.
If you have a specific project in mind just click the Fast Track Quote button below. It will get the process going and we will contact you with costs. Overall we strive to be transparent and willing to discuss your needs so we can provide a great solution. We look forward to working with you when you join the elevator revolution.