Cold Slows Elevators – An old saying that we use in the Midwest is, "You're as slow as molasses." To put a finer point on it we say, "You're slower than molasses going up hill." An even further expanded use for the most turtle like folks is, "You're slower than molasses going up hill, in a snow storm." As we all know cold slows everything down. And get this, it turns out cold slows elevators too.
I am not saying that cold weather will reduce the functionality of an existing elevator, although it can happen. Usually you press the button and the elevator will show up as expected. But what I am trying to say is that when adding an elevator to a project, cold weather halts the progress of an elevator installation. This happens in a couple of ways.
Cold Slows Elevators – Hoistway Construction
Traditional elevators require a site built hoistway. In cold temps building one can be a massive challenge. The challenge is both in poured concrete and cmu block construction.
Concrete definitely is a problem child in the winter for shaft or hoistway construction. Pouring concrete is often halted in the colder climates when temps drop in the US and Canada. If it is done anyway the results are often spotty at best. Darrell Bailey from Morton Building, a firm that specializes in metal buildings said, he has seen people try to pour concrete in bad weather with horrible results. He said, "It will freeze and bust. You just can't pour on frozen ground," and "that means you are stuck until things thaw out."
Failure Means More Delays
Sometimes warming the ground with black plastic or concrete blankets can work. But if that fails, additional costs must be expended to redo the work. The other option is to change up the mix of the concrete. A chemical accelerator such as calcium chloride can be used. But that does not mean your cold problems are over. The jobsite pour has to be cured for around a week meaning more blankets or black plastic. In extreme cases heating and hoarding is your only option. If you fail, the structure can heave or have chucks of concrete pop off.
With CMU (concrete blocks), you really shouldn't proceed in a temperature below 20°F or when the the blocks contain frozen moisture, visible ice, or snow on the surface. That stops a lot of building, especially elevator hoistways. I have personally heard of projects where they pushed the envelope and suffered the consequences when they had to tear down the hoistway and start again.
Modular Shakes Off the Cold
On the other hand, modular building shakes off cold concerns. The work is completed inside a factory. Bad weather? No problem. You do not need to supply a concrete or CMU block elevator shaft on site. The modular elevator includes the hoistway! It doesn't matter how cold it is outside, our elevator will be produced on schedule.
Cold Slows Elevator – Traditional Installation
The hoistway is not the only problem. One of the worst feeling on earth is when you are turning a wrench in freezing temps and it slips. Ouch! A knuckle buster is bad enough in sunny weather but in the cold? My hands ache just thinking about it. I can have empathy for the elevator installer in cold weather, but that empathy fades a bit when you realize contractually major companies won't install in cold weather. What?
That's right, often in the "Job Conditions" section of the contract you signed, you will find language that restricts elevator installation to a comfortable minimum of 55°F (13°C). That's right, they don't work in the cold leading many to believe that elevator crews watch the thermometer more than the time clock. If temps drop below the magic number, all you will hear is tires squealing in the parking lot and all you will see is a cloud of dust.
Traditional Techniques are the Problem
But there is a good reason and they are not being big babies about cold hands. The traditional elevator installation is the problem. For an elevator installation the old-fashioned way the elevator must be working. They ride the elevator up and down while they are cobbling all the pieces together. Because the minimum temp for elevator operation is 55° that is the line between being on the clock or not. If it is below that temp, it can void the warranty.
That doesn't seem like too big a deal right? Until you look into average temps according to the National Climate Report from NOAA. In Milwaukee, Wisconsin it is only above the 55°F mark five months out of the year. The average annual temp is 47.7° in Wisconsin. Also, surprisingly the average temp in the continental US is a chilly 54.4°. The problem is bigger than you think. This could mean delays as the building must in some cases be largely finished before the elevator crew shows up at all. Good luck getting a job done on time.
Modular is the Solution
A modular elevator is completely installed in a hoistway and in a factory! It can be cold or hot, wet or dry outside and it simply does not matter. Your elevator will be completely installed in the factory. When it arrives at the jobsite, it is not installed so to say, but set in place. The setting process takes about 4 hours at most.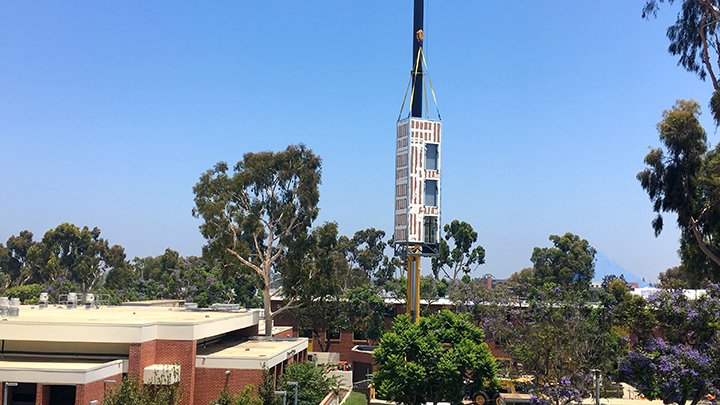 Once power is provided all that is left is to turn the elevator on and set it up. A process that takes a couple days. The reason for the short timeline is that all the components are inside and ready to go. It does not matter if it is a freight elevator or a simple elevator with a small capacity. They are all equally as easy to set and start up in no time.
So why use any other method than the MEM modular elevator system? We wonder that too. If you are tired of the excuses and delays it is time to contact us for questions and pricing. We will even schedule a live virtual tour of our manufacturing facility at your convenience. Just click the link below.