Elevator with a faster ROI. It started out as a simple conversation with a major investor (name withheld intentionally) with a hotel company at a construction job site. I was walking around with a camera around my neck and taking some video. As the crane roared in the background, he leaned over in my general direction and shouted, "Who are you here with?"
I pointed to the modular elevator being suspended by the crane and I said with equal energy back to him, "The elevator company."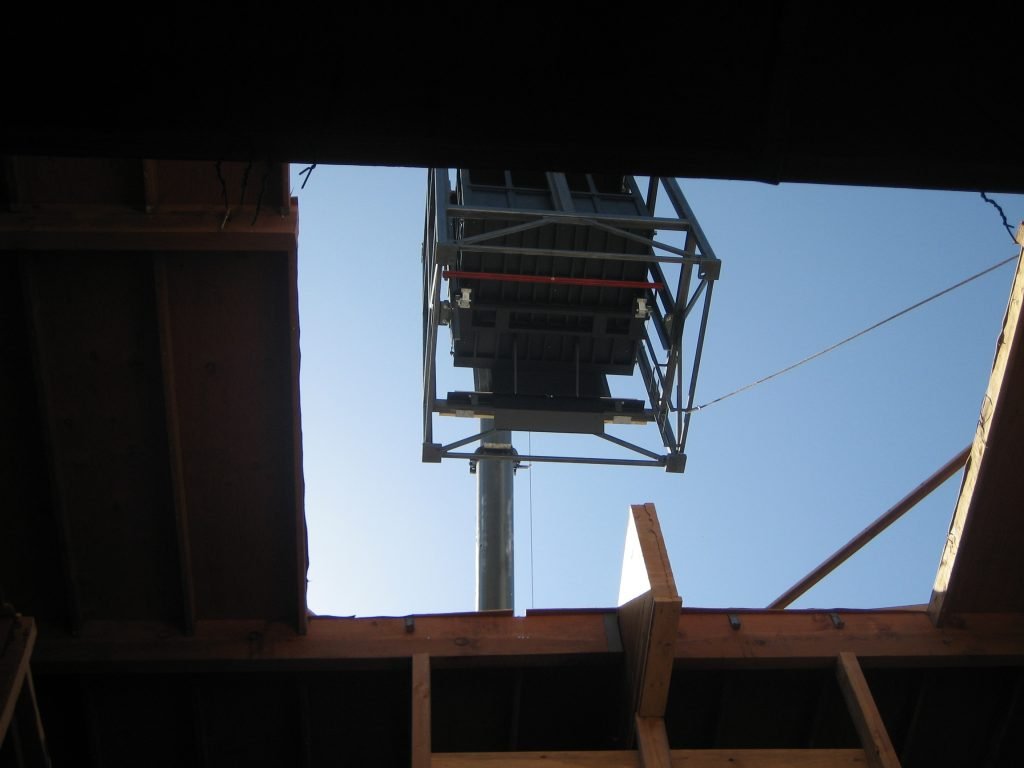 A broad smile crossed his face and he said a curious thing that I was not in the least prepared for, "Thank you." he shouted.
With an inquisitive look I stammered back, "Your welcome?" He nodded still sporting that wide grin.
Opportunity
It then occurred to me that I had a very rare chance to speak directly to a major investor in the project. We talk constantly to architects, general contractors, elevator contractors, project managers and a whole host of others with various responsibilities, but it was rare to actually be at the job site and speak one on one with an investor. Our paths just don't cross.
It is not rare that they check up on progress with on site visits, but as the elevator hoistway with all the components pre-installed takes only a couple hours to set it is rare our paths cross. And if he had the time, I would love to ask a few questions about his impressions and what stood out about the modular elevator. So I picked out his SUV…not difficult to do in the construction crew parking lot and camped out near there as I shot more video.
Eventually he appeared from the construction trailer and I asked him for a moment. He said he had a second or two he could spare, so I wasted no time. I introduced myself and asked what he thought.
Its All About ROI
Now, usually when you see a huge 15 ton object being swung into place at a job site on the end of a crane hook, people take a moment to look up and see what is going on and gaze in amazement. At a recent job in San Diego, faces dotted the windows in an adjacent building so onlookers could to get a peek of the elevator being lifted into place.
I have seen the curious have to be held behind yellow caution tape or with one project, a row of lawn chairs popped up across from a church getting its first elevator. So I imagined the gentleman I was speaking with would talk about how impressive the elevator looked being lifted and placed. I couldn't have been more wrong.
"Its all about the ROI." he said. "The return on investment is what excites me most about your product."
He could tell by my stunned look I needed a further explanation. So he went on to say that with the modular elevator unit in his estimation, nearly 6 month could be trimmed off the total time usually allotted for the build. This significantly reduces the general construction costs. Because he made more money, faster from his perspective, he loved the MEM modular elevator.
He Sold Me
He quickly laid out that with modular, while the ground is prepped and the concrete poured, the elevator and hoistway are being produced in a factory. So there is never a delay in hoistway construction. Bad weather doesn't matter. The elevator can be set any time of year and problems with labor to build the hoistway are non-existent. Everything is done off site.
But beyond that, when the power is available they can use the elevator as a construction elevator. That saves even more money on the project. Finally, he indicated that there is no delay in getting it up and running. There is no need for extra space, extra parking, or having more people onsite stepping over each other. The elevator crew shows up for about a week and voila the elevator functions as intended, not months like usual. The elevator is totally off the critical path and the hotel can be occupied faster.
Back On the Road
He summed it all up by saying, "That is why we love your product. An elevator is an elevator to me. Push the button and it goes up. But yours gives a faster return on my investment than any other. And no other elevator can change the timeline on an entire project for the positive."
With that, as quickly as our impromptu meeting began it ended. He jumped into his SUV and sped off to the next project three states away. However, he gave me a lot to think about. Although an elevator with a faster ROI seemed important before the chance encounter, it now means even more to me.
My hope is investors and building owners that would like to shave time off of a project would click to find out more. They will ultimately realize a faster ROI on a building project if they do. We would love to talk to you about your project and how we can be a part of your solution. Modular Elevator Manufacturing – quality elevators taking you to a higher level.